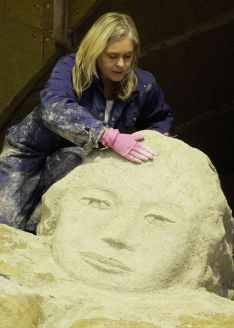 I am interested in art which is placed into - or is a part of - a context, and which can be experienced on many levels, not just through the intellect and thoughts. This is why working in the public space has interested me so much. Producing a story - my own selected parts set in relation to the site specific - has been the driving force of large parts of my production.
Social participation is a very important part of my concept structure, both through direct involvement, where collected photos and symbols are modelled in porcelain (according to the given theme) are incorporated in the fabric of the sculpture. But also the physical aspect of being able to experience the sculpture by sitting on them, turn and drive them, slide through them or enter into them.
Another aspect is music and sound. In several of my projects, both the temporary and the permanent, I have had a good collaboration with the contemporary composer, Geir Johnson.
Most of my work is directly modeled in reinforced concrete. Strengthening is, in many cases, recycled materials, for example dust bins inside the rolling angels, and the old caravan to the project "Campingwomen" which were made for the European Capital of Culture Stavanger 2008.
The rationality and flexibility of concrete always makes me come back to this material, which also allows a short transition between thought and action.
I have 25 years of experience with iron and concrete constructions and always collaborate with engineering and concrete consultants for larger tasks.
Other materials I use are stone, bronze, aluminium and various plastic materials."