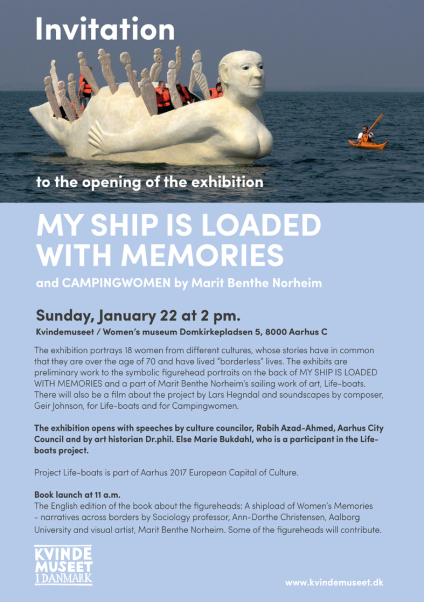 MY SHIP ARE LOADED WITH MEMORIES
EXHIBITION OPENING JANUARY 22, AT 2 PM.
The exhibition portrays 18 women whose stories have in common is that they are over 70 years and have lived 'borderless'. Preparatory to the symbolic galionsfigurportrætter on the back of My ship is loaded with memories is part of Marit Benthe Norheim sailing work of art Life-boats. There will also be film about the project by Lars Hegndal and soundscapes by composer Geir Johnson for Life-boats.The exhibition opens with speeches by Dr. Phil. art historian and 'instrumental' Else Marie Bukdahl and Alderman Rabih Azad-Ahmad, Aarhus City Council.Project Life-boats is part of Aarhus 2017 European Capital of Culture.
BOOK LAUNCH AT 11 PM.
In connection with the opening of the exhibition we will launch the English version of the book about figureheads: A Ship Load of Women's Memories. Narratives across Borders.
the sociology professor Ann-Dorte Christensen, Aalborg University and artist Marit Benthe Norheim.A Ship Load of Women's Memories. Narratives across Borders from Aalborg University PressThe book is based on 18 life stories as customs by women over the age of 70 with roots in 27 different Norden. Each story is analyseres as a unique account of individual erfarenheter with strength, pain and love. The stories are, at the same time, a source of knowledge about major events in society over the past decades where flight, migration and encounters mellom different cultures havebeen a condition of life for many.