ROLLING ANGELS 2000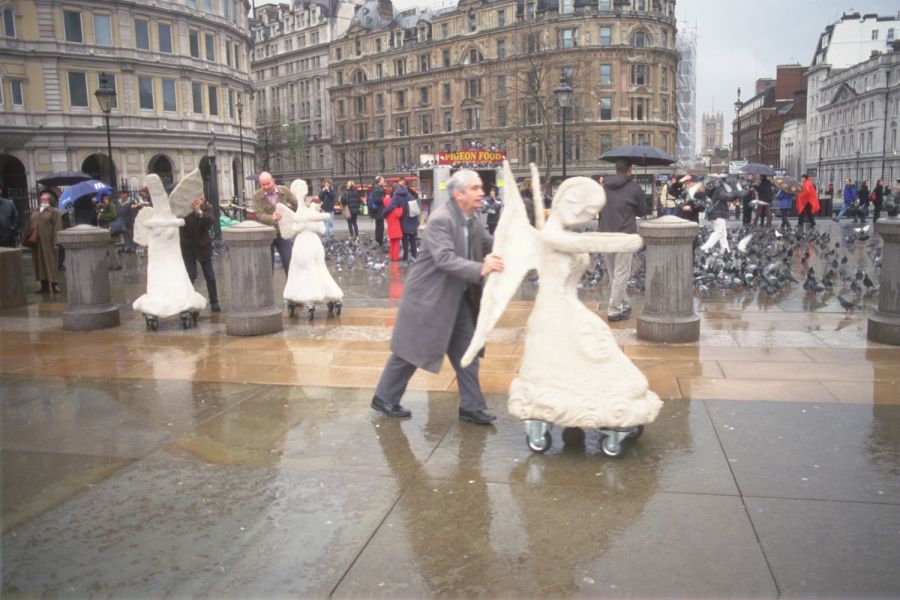 Consisting of 16 angels in human size in cement, modelled over dustbin armatures
These angels were given wheels so that they could move. Composer Geir Johnson produced sounds that buzzed out of speakers moulded into each angel, based on insects and birds, so that they could create their own sound world.
These angels have rolled through the centre of Oslo, for the opening of the Jakob Kultur church, after which they rolled through Wick in Northern Scotland, then on to London, English National Opera and a stay at Trafalgar square between Christmas and New Year. Afterwards, they visited the Church of St. Martin in the Fields and Salisbury Cathedral concluding with a roll around Sæby in Denmark. Over the course of the whole journey the Norwegian Solistkor and the soloist Siri Torjesen followed them, to perform the work "Rolling Angels" by Geir Johnson, written specially for the work. They also had stays at galleries both in Norway, Denmark and London, as an installation where the stillness provided a possibility for reflection and the sounds were not mixed with sounds from the outside world.
Angels are, just like the figureheads, populist symbols, which everyone has a relationship to at one level or another. It has been exciting and enlightening to make a work that is as adaptable as this one, where audience participation and involvement have been crucial for being able to use them in the public space. They have been pulled and pushed through the towns by both young and old.
These journeys have also demonstrated the relationship that three different cultures have to angels as symbols, and the reactions to the angel sculptures' effect on the public life. In Norway, with their Inner Mission traditions, most of the focus was placed on the sculptures as a missionary tool and the prejudices surrounding this. Both in the UK and in Denmark the curiosity was directed to a greater degree towards the connection between the spiritual aspect and culture, both in terms of content and historically. The angels staged confrontational and challenging situations by their mere presence. The character of the surroundings was changed by the arrival of this large flock of angels
ROLLING ANGELS - press for large pictures
PORTRAITS OF ROLLING ANGELS - press for large pictures
Rolling Angels in St. Martins in the Fields, London. A film by Steve Sprung