LADY OF THE SEA, SÆBY HARBOUR, DENMARK 2001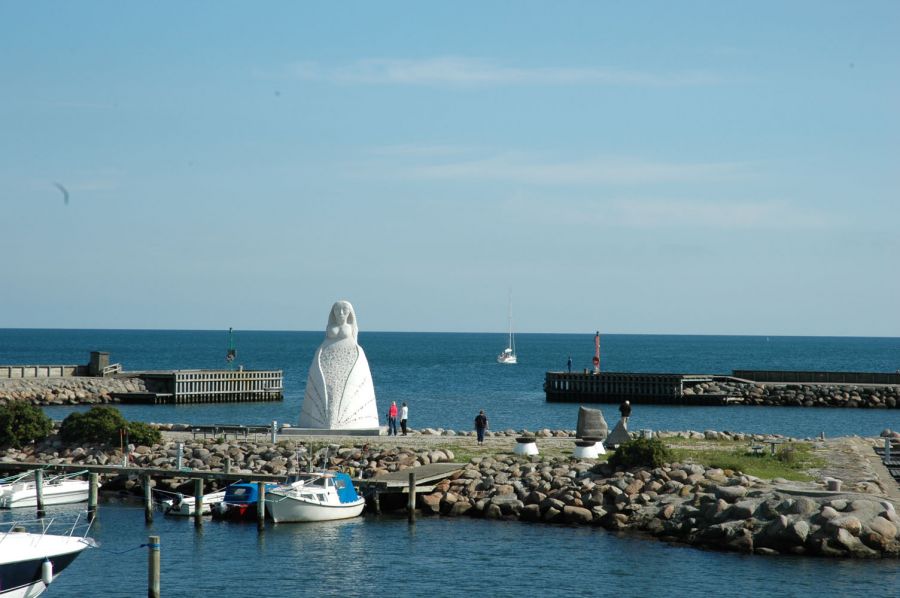 Sæby harbour, Denmark, 200-2001, cement, 6.85 metres tall
She has two faces, looking over the sea as well as looking in towards land.
The sculpture refers to the main character in the play "The Lady of the Sea" by Henrik Ibsen, which he wrote in Sæby. Here, the sea is referred to as a symbol of all the dark forces within and outside of ourselves, where the woman sees herself "like a mermaid washed up on shore."
The other woman is the Virgin Mary, who bares her breast to Christ on doomsday in the chalk paintings of the Middle Ages in Sæby Church. She has people hidden in her cloak and asks for protection and mercy for these poor people, from her son, who has suckled from her. In the Middle Ages, Sæby was called Mariested (the place of Maria).
But the main point of reference is the Figurehead, which humankind has used for as long as we have moved over water and has always been a protection against unknown dangers.
Nine hundred and five children and young people in Sæby were asked to think of a dangerous situation and then make their own protection symbols in ceramics and glass. They produced everything from angels and devils to pizza and mobile phones, play stations and portraits of pets and parents. These reliefs are incorporated as a mosaic into the cape of the sculpture of the "Lady of the Sea."
"Marit Benthe Norheim's large sculpture on the harbour in Sæby - The Lady of the Sea - which was created in 2001 - is an example of how a monumental sculpture can create a whole new town space, provide a location with an eye catching new profile and the town a striking landmark. With The Lady of the Sea, Marit Benthe Norheim has succeeded in combining writing and sculpture, religion and art, children and art, together in a way that is both fascinating and original.
Else Marie Bukdahl, Dr. Phil, former rector of the Danish Royal Academy of Art
LADY OF THE SEA - press for large pictures
PHOTOS FROM THE PROCESS - press for large pictures