RAT MAIDEN 2006, SKIEN, NORWAY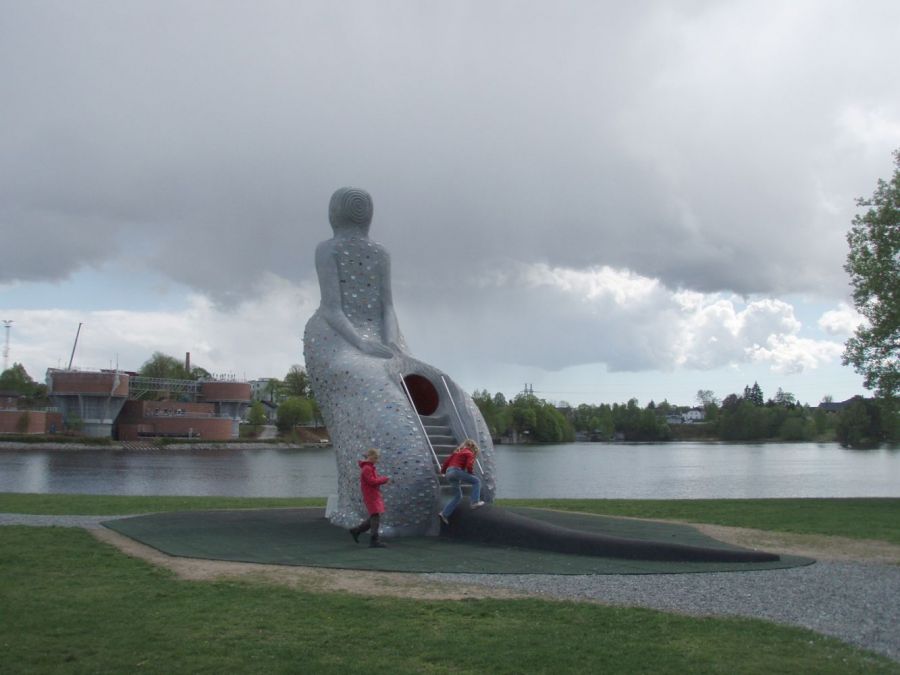 Bakkestranda, Skien, 2003 - 2006, cement, 7 metres tall.
Produced in connection with the 100 year jubilee of Henrik Ibsen's death
"The Rat maiden" is a character in Henrik Ibsen's play "Little Eyolf". She is a rat catcher, who sees herself as the liberator of the rats and she goes from home to home to see if there is anything that nags or gnaws. In little Eyolf's family there are no rats, but the little 11 year old boy is trapped between two parents in a marriage filled with conflict. They overprotect and disregard Eyolf. The Rat Maiden sees who Eyolf actually is and gives him new opportunities, which Ibsen symbolises by his drowning; surrounded by water, as a symbol of change, new life.
Rats are some of the most despised in our culture, and when the Rat Maiden takes their side, she becomes a symbol of a kind of protector of the ostracised.
I have also constructed a slide inside her, so that children can climb up on her back, move through her and slide though the rat and what it represents and come out in one piece on the other side. Inside her you can hear Geir Johnson's composition "The journey between laughter and tears."
Because the piece is so much about seeing and being seen or not seeing and not being seen, 2300 children and young people have made eyes in porcelain, which are inlaid as a mosaic within her body.
RAT MAIDEN - press for large pictures
PHOTOS FROM THE PROCESS - press for large pictures
PUBLICITY