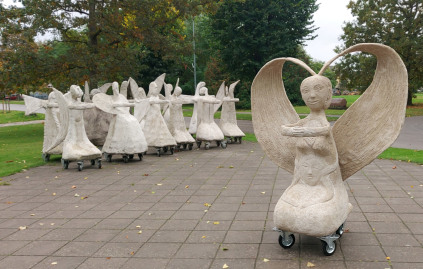 01.10.22
A new rolling angel
ANGEL OF SMILES
- as a symbolic portrait of Stasé Samuleviciené.

FOR THE EUROPEAN CAPITAL OF CULTURE KAUNAS 2022 MADE FOR THE ANGEL MUSEUM OF LINKSMAKALNIS IN THE KAUNAS-REGIONEN
By sculptor Marit Benthe Norheim with inlad music by composer Tonje T.S. Norheim
Since September 2021 my installation titled Rolling Angels, consisting of 15 sculptural mobile angels, (modelled in concrete over second-hand rubbish bins) have been residing in Linksmakalnis. They have been used by a contemporary circus group who have pushed and pulled them through Linksmakalnis and Kaunas City. In addition to bringing this flock of Rolling Angels, I was asked to create an angel specifically for the small town Linksmakalnis, who would be staying there permanently. The sculpture was handed over on the 1st of October in Linksmakalnis, with speeches by the Elder/Mayor of the town, three representatives from the European Capital of Culture Kaunas22, Representative from The Danish Cultural Institute and the artist. There was also a handover performance by Džiugas Kunsmanas and Sigrid N. Ørntoft, accompanied by the music for the Angel of Smiles and a concert by local musicians.